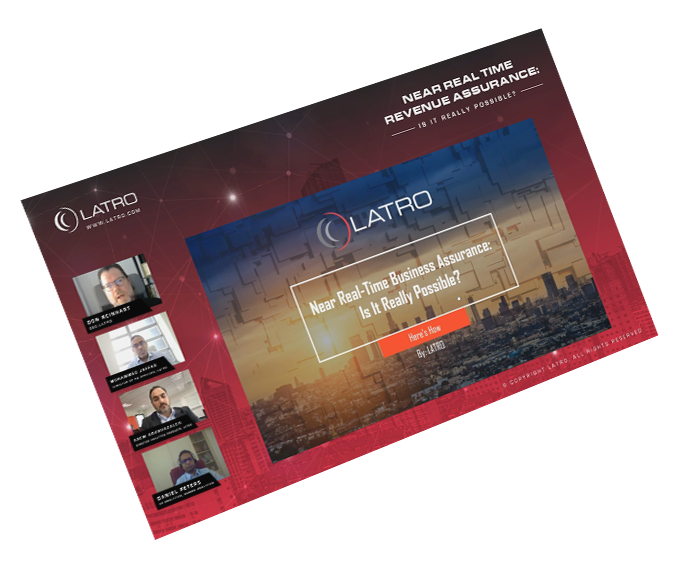 Webinar On-Demand
Near Real Time Revenue Assurance - Is it really possible?
Does your current Revenue Assurance (RA) system have the potential to provide instant end-to-end reconciliations when needed?
Or do you have to wait for hours?

Most of the time, this lag in reconciliation time could result in your company losing millions of dollars due to poor data quality, misconfigurations, platform outages, and fraud – a loss which could have been avoided through the employment of established proactive controls. Over the last decade, LATRO has pioneered the fastest technology for telecom operators and national regulators to beat fraud. LATRO's "Versassure" solution is a premium suite of RAFM Products and Managed Services powered by Artificial Intelligence, Machine Learning, and Big Data capabilities that helps telecom operators and RAFM teams achieve the fastest insight into revenue leakages due to anomalies, trends, and revenue-damaging events within the telecom enterprise. "Versassure" also eliminates revenue leakages and provides reconciliations of any data source in near real-time.

Watch this webinar featuring:
- Don Reinhart, CEO, LATRO
- Mohamad Jaffar Badry, Director RA Services (LATRO)
- Asem Abughazaleh, Sr. RAFM Product Manager (LATRO)
- Daniel Peter, VP Analytics (GAMMA)
as they discuss the latest technology and techniques to elevate your current RAFM maturity and controls and take your RAFM strategy to the next level.